Treasure Hunting
submitted by Mary H. Mills
When the weather is wet and cold I like to surf the web for interesting stuff. One of my favorite sites is Amazon.com. I find surprises nearly every time I search through this site. Here is one of my found treasures:
An Aztec Herbal, The Classic Codex of 1552.
William Gates.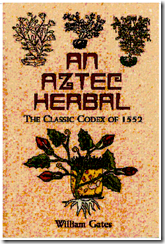 [Amazon.com)
I loved reading the history of native American Indians in North,
South and Central America through the years.
I never thought I would be able to read or own a copy of this Codex. It was originally written in the Aztec language, Nahuatl, in 1552 by an Aztec physician. The book has been translated into Latin, Spanish, and English through the centuries and finally found it's way
into my library!
Aztecs suffered from some the same complaints we have today: boils, hair loss, cataracts, insomnia, sore throats, gout, lesion, joint problems and many other common
ailments in our list of ailments.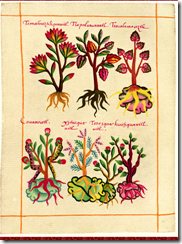 Plate 68 (facsimile edition)
of the Badianus Manuscript ('Aztec Herbal')
This little herbal has over 180 black and white drawings of plants, text describing remedies made with them and an analytical index of the plants. There is even a discussion of the Mexican botanical system.