January 17, 2015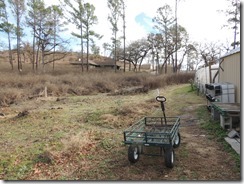 One acre of our land had suffered the 2009 and 2011 Wildfires and a noxious weed, ragwort, had taken over between the fallen trees. It was impossible to walk on the uneven land. We hired a wonderful landscape company to clear the weed, remove fallen trees and smooth out the land.
(Barrientos Construction Services. The young man who operated the equipment was an artist and left the land in great shape.)
We got a very late start after the dried weeds and fallen trees were removed. The land was smoothed out so we could mow comfortably later. We needed to plant rye grass to prevent the soil from eroding during winter rains. My daughter, Catherine, and I had never done this so we went to our local Tractor Supply to get information. They told us what we had to do.
We purchased lawn grass seed to plant after ragwort and fallen trees were removed from 1 acre of land leaving exposed soil. Although we knew it was late in the season we hoped the seed would germinate and avoid erosion.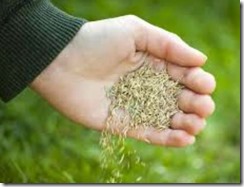 Fast Lawn grass Seed Mixture
consisted of
90.88 Gulf Annual Ryegrass
7.61 Linn Perennial Ryegrass
We purchased a seed spreader and learned how to use it.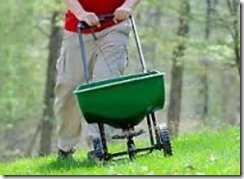 We hired a teenager, Landon, to help and mixed in more Gulf Annual Ryegrass.
We felt we were ready after we mixed in high nitrogen fertilizer.
Catherine and Landon spread the mix with the new seed spreader and an old wire shelf dragged behind to help press and cover the seed into the ground.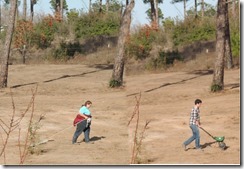 We placed about 6 strands of old CD/DVD reflectors to sway in the wind and spread reflected random flashes that we hoped would prevent birds eating the seed.
It rained for two days afterward. We congratulated ourselves on our good timing.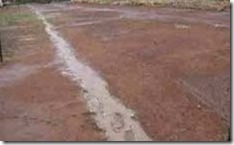 The rye grass began coming up in 15 days!
When Catherine saw the grass, she was eating breakfast, while looking out the window. She literally jumped for joy. She grabbed a camera and rushed out. Look closely and you can see the grass.

When she came back into the house, she looked sheepishly at me saying,
"I guess no-one will understand why I would take pictures of grass beginning to grow."
I know, she said…"I will call and tell Landon."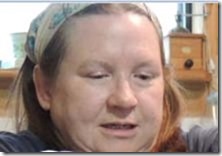 She called and they enjoyed the news together on the phone!
And he thanked her for sharing such wonderful info.