The danger of reliance on fossil fuels in the middle of a war zone are lessons learned in wars both in Iraq and Afghanistan. Importing and transporting fuel onto the battlefield is incredibly expensive. Supply chains could be disrupted by weather or political fallout but the most expensive lesson was our loss of American soldiers lives.
For example, regularly, fuel convoys drove through barren deserts in Afghanistan and Iraq to supply forward operation bases, remote outposts, fuel for trucks and tanks, generators run on gas, fuel for helicopters and jet aircraft . Each convoy required an armed escort meaning troops on the ground and local allies who drove the fuel tanks were put in harms way to supply the continuous demand for fuel.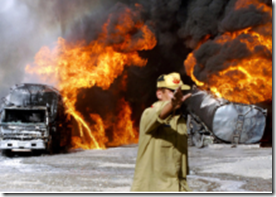 One service member reported:
"Over the course of the Iraq War, one in three U.S. casualties occurred in Al Anbar province."

You wonder how many casualties were from IEDs?
Driving past the burned out hulk of U.S. army vehicles that had been hit on previous convoys had to have a real effect on moral.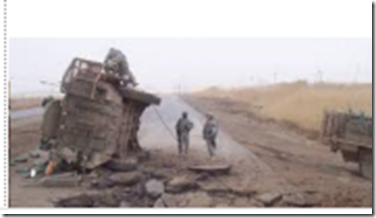 Do not let these lessons be forgotten by policymakers in Washington. It is said that military personnel fight current battles with the technologies of the last wars. There are alternatives to the military sole reliance on fossil fuels.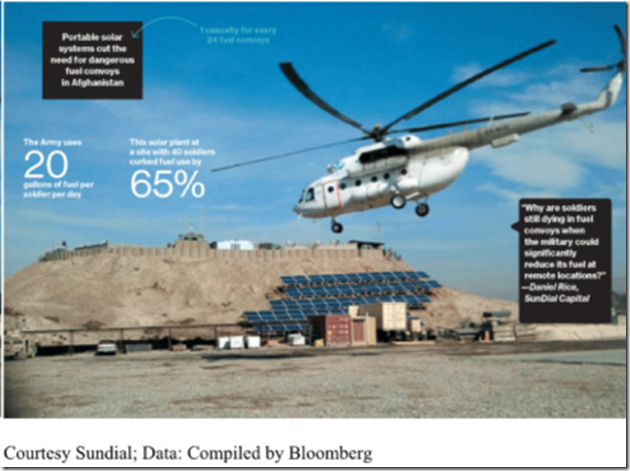 Many Defense Department personnel have asked for research and development of alternative sources of energy including solar and wind.
As early as 2010 the recommendation to explore alterative energy sources for the military existed.
Strategic Environmental Research and Development Program (SERDP)
Sustainable Forward Operating Bases
Dr. Ash Carter, the Under Secretary of Defense for Acquisition, Technology, and Logistics, has commented that "protecting large fuel convoys imposes a huge burden on combat forces" and "reducing the fuel demand would move the department more towards an efficient force structure by enabling more combat forces supported by fewer logistics assets, reducing operating costs, and mitigating budget effects caused by fuel price volatility."
Without renewable power, as Major General Richard Zilmer said in an oft quoted remark, U.S. forces "will remain unnecessarily exposed" and will "continue to accrue preventable… serious and grave casualties."
The Department of Energy requested $2.317 billion for research and development of clean energy and renewable power technologies in its fiscal year 2015 budget. This money would be used to pursue sustainable power generation, helping to develop the technologies that will allow the armed services to move away from fossil fuels as the primary source of energy.
Congress should fully fund these efforts in 2015. Developing renewable power and achieving greater energy efficiency is critical for the national security of the United States, and will make a significant impact by reducing the burden on military logisticians and ground troops in future conflicts. As new technologies are deployed on the battlefield, the dangerous dependence on fossil fuels by future warfighters can be reduced. This will in turn mean fewer fuel convoys in future wars, and fewer casualties of U.S. service members who risk their lives on a daily basis to secure an inefficient and expensive source of energy.
Adam Tiffen is a co-founder of Tri-Star Collaborative, a firm specializing in sustainable development in emerging markets and post-conflict environments. He is a member of the Truman National Security Project's Defense Council and a veteran of three tours of duty in Iraq and Afghanistan.
When the military finds a reason to research and develop solutions with solar applications in mind, civilians often benefit in related commercial products.
To keep informed with developments in Solar power in the military see these sites:
Bloomberg Business
Exploding Fuel Tankers Driving U.S. Army to Solar Power
http://www.bloomberg.com/news/articles/2013-09-30/exploding-fuel-tankers-driving-u-s-army-to-solar-power
In the Iraqi war zone, U.S. Army calls for 'green' power
http://usatoday30.usatoday.com/tech/news/techinnovations/2006-09-07-army-green-power_x.htm
Energy Quote of the Day: Turning to Renewable Energy to 'Become Better Warfighters'
http://www.theenergycollective.com/jared-anderson/470286/energy-quote-day-turning-renewable-energy-become-better-warfighters
Environmental Update. Alternative Energy Powers Border Checkpoints in Iraq
By Cpt. Robert Moore
http://aec.army.mil/portals/3/newsroom/update/fall09/fall0914.html
Enlisting the Sun: Powering the U.S. Military with Solar Energy
http://www.seia.org/research-resources/enlisting-sun-powering-us-military-solar-energy
New report reveals U.S. military's renewable energy victories
http://www.greenbiz.com/blog/2014/01/20/us-military-renewable-energy-security-pew-report
Enlisting the Sun: Powering the U.S. Military with Solar Energy
http://www.seia.org/research-resources/enlisting-sun-powering-us-military-solar-energy