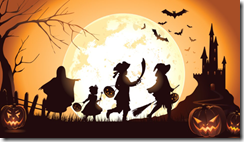 My son wanted to cover one of his eyes and make an eye low on his cheek. We went to a theatrical make-up store and bought make-up to work on his idea. (This was his favorite holiday). We did the best we could, but the eye idea was hard for amateur make-up artists and we didn't do so well. But it was fun trying.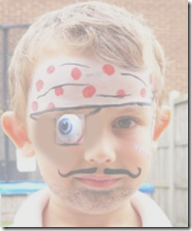 The next year, my husband's job sent him to San Francisco for several weeks and I flew out from Texas to visit him. Several engineers shared motel rooms for the company project and when I arrived, one guy generously doubled up with others so my husband and I had a room. Each day, I would explore San Francisco and at night, the engineers would socialize in one of the motel rooms.
I would be greeted with, "Well, what did you do today?" I would relate my adventures exploring San Francisco's Fisherman's Wharf, Golden Gate Bridge Park and many other wonderful places.
One adventure stands out. I found a shop

that had a bowl full of plastic, realistic eyeballs. I envisioned making the next Halloween memorable for my son. I purchased 5 plastic eyeballs and put them in my pocket.
When the time came for me to relate my adventures to the engineers standing around the room with drinks just socializing-they all paused conversations to see what I had to tell.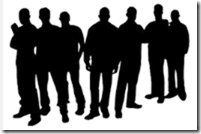 With great enthusiasm for my find, I reached in my pocket for the 5 plastic eyeballs and put them on the coffee table.
I did not expect the eyeballs would look so very, very weird.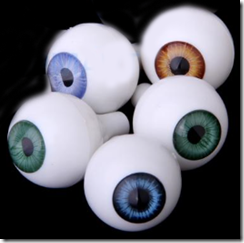 The room was very silent for a minute as everyone stared as the eyeballs rolling around the table.
Then my husband, shaking his head, said, "Mary, sometimes I wonder about you."
After laughter subsided, I was able to explain my happiness in finding this wonderful gift for my son' many wild future Halloweens theatrical faces.