My daughter Catherine and I received this invitation.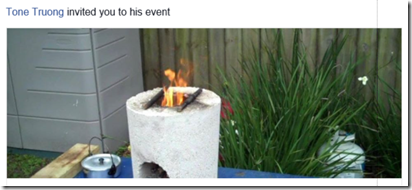 Catherine has mentioned her interest in rocket stoves for some time so we read the invitation from Tone carefully.
Wocket Stove Wednesday
Aww yeah peeps, you guys wanna go do something awesome? Cuz I do… come join me and build some rocket stoves on wednesday. I'm hoping to donate whatever we make to help support the fight against the Dakota Access Pipeline. Out of the list of supplies the Standing Rock group needed, wood stoves kind of stuck out to me. I been building these bucket rocket stoves for a while and thought that it would be a perfect portable alternative to a bulky wood stove. If you're interested in learning more about them, or want to support the people protecting the waterways, please come through and get your hands dirty. I recommend you bring a pair of rubber gloves, like the yellow dishwashing kind and some clothes that you don't mind getting cement on. Feel free to bring a dish if you want to share something. Beer also makes a great dish.
We decided to attend this event for several reasons. I had communicated with Tone on the internet but never met him, he had recently had a "Permablitiz" at his property installing berm and swales for his fruit trees and I really was interested in seeing these. Also, I loved the idea of supporting the Dakota Access Pipeline people. So I was ready to check this event out and meet a man I admired!
Catherine was the "hands on person" and I was along to photograph a few pictures for this blog.
Before going I wanted to find out what exactly a "rocket stove is."
So off to the internet and google…
A rocket stove is an efficient and hot burning, portable stove using small diameter wood fuel. Fuel is burned in a simple combustion chamber containing an insulated vertical chimney, which ensures almost complete combustion prior to the flames' reaching the cooking surface.
In field tests in India, rocket stoves used 18 to 35 per cent less fuel compared to the traditional stoves and reduced fuel used 39-47 per cent compared to the three stone fire, as well as a large reduction in emissions.
Tone is an interesting fellow, willing to show us the development of his property, and to provide an interesting, useful project to help the Dakota Pipeline protestors. Tone was ready to show us around and after getting acquainted he showed Catherine how to build and use the rocket stove.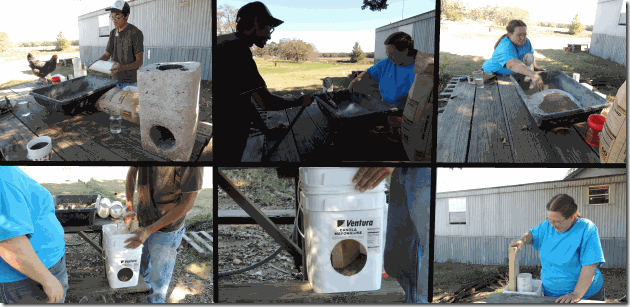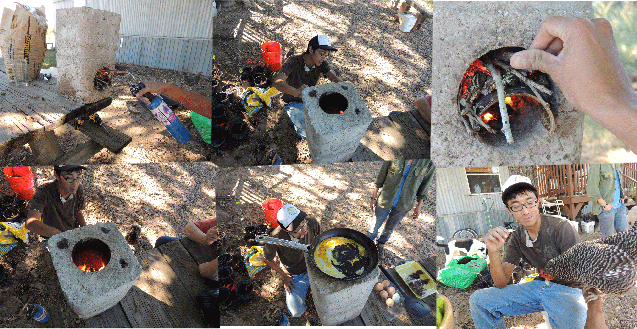 Using twigs the fire was started and quickly became hot enough for Tone to cook some eggs. He said with very little fuel you could boil water. This is a very useful tool.
If he offers this project again, I wholly recommend it for anyone interested in learning useful skills.