Mom and I needed a lot of compost and mulch for a project we were starting. I learned that a local organic pecan orchard owner has been chipping up trees for mulch because he had lost many trees in some recent flooding. His name is Gene Niswander, and his farm is called Yegua Creek Farms.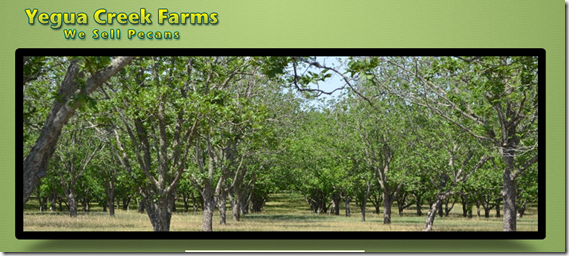 I searched out his business card and called the phone number on it. Mrs. Niswander answered and said that she would have her husband get back with us. It turned out that Mr. Niswander no longer had any pecan wood mulch, but he did have some organically-grown square baled hay that we could buy from him at $6 a bale and that included delivery. We mentioned the price to a friend who had experience buying hay bales and he said that sounded like a very good price and he knew the hay was organic.
We also knew that ordinary hay has pesticides that are used to maximize yield, and we did not want to have that in hay that we used for mulch. I have heard that herbicides are a subset of pesticides, therefore they are very dangerous to garden plants. We have heard that people have lost their garden plants to hay that was not grown organically and had pesticides and herbicides in it.
So we decided to go ahead and buy the hay for mulch in the beds we planned to begin in the spring.
Next we needed to know where on the property to offload the hay. We decided that it would be easier for the delivery truck to offload the hay in front of the garage next to the entry gate. We were also going to get a load of compost, and we did not want the compost to slide down the nearby slope. So we asked them to pile the hay as a barrier so the compost would not slide down the slope.

We also needed a lot of compost, and we had no idea where to find some. We had driven past a place called Stone Haven out on Highway 71, west of Bastrop, just passed Producers Co-op often. We decided to check to see if they had organic compost.

It had organic garden soil and turkey compost! The garden soil had sand, compost and other ingredients. The turkey compost was all compost, but cost more and we were told it was too hot to use directly in our plant beds. We decided that we preferred the garden soil. We bought the garden soil and asked that it be delivered in within a few days.
As the delivery day approached we reconsidered where we wanted the compost to be placed on our property. Our original location was selected because it was out of the way of our work and up hill from everything. We had already placed the hay by the entry gate, but it was not such a good idea after all, because the land sloped toward the neighbors property. We knew we would use the compost gradually over time, and rain would leach the "compost tea" onto our neighbors land. That seemed like a waste. We thought it would be better to put the compost where rain would wash the resulting compost tea into an area that could use the nutrients on our own property.
In order to allow the large dump truck onto our property, Mom and I had to take one of our gates off its hinges. When the day came for delivery, it went well, and we put the compost at the top of a hill so that it would leach into an area where we intended to create a garden.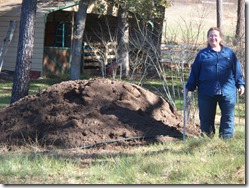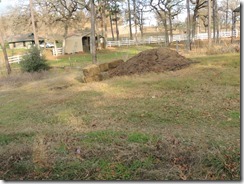 Then we moved some of the square bales of hay to the downhill side of the compost to keep the whole mound from washing down the hill.
We were so very happy that we had begun our project at last.