Kellyanne Conway is a hired mouth with no integrity or beliefs beyond her constant running to follow the money.
She endorsed Ted Cruz during his 2016 Republican presidential campaign. She chaired a pro Cruz political action committee, "Keep the Promise I" that was reported to be almost entirely funded by a businessman, Robert Mercer. While supporting Ted Cruz she criticized Republican Presidential candidate Donald Trump as extreme and not a conservative. She hit the nail on the head at one point, saying Trump was "a man who seems to be offending his way to the nomination. Later she drew attention to his use of eminent domain to "…literally bulldozed over the little guy to get his way."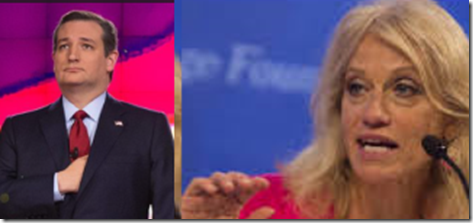 Ted Cruz dropped out of the Presidential race, and on July 1, 2016, after Cruz suspended his presidential campaign, Trump appointed her as a senior advisor to his campaign. Here is where she showed her true commitments. She simply follows the money and stands up for anyone willing to pay her and shifts loyalty accordingly.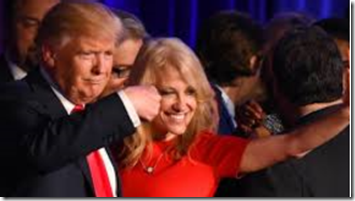 Donald Trump says embarrassing and/or untruthful things on a daily basis. Kellyanne Conway's role is to cover, explain and deny away the facts. She is available for MSNBC, Fox or any media outlet from late night to morning shows. I wonder why these media outlets allow her to dodge questions, denying obvious facts already out on social media videos and spinning every question toward criticisms of Democrats.
Is she earning her pay? (will she ever collect from deadbeat Trump?). She is in front of cameras talking over interviewers to obscure the truth constantly. Will the media tire of her repetitive, predictable spinning of Trumps embarrassing untruths? One can only hope SOON.