Catherine L. Mills
I have a few backyard chickens for egg production. I have learned a lot with the 5-6 chickens for the past few years. I researched, planned, and built a portable chicken coop with the ideas of moving it around the yard so the birds would get fresh greens (weeds)and insects while fouling (I mean, fertilizing) and weeding the grounds.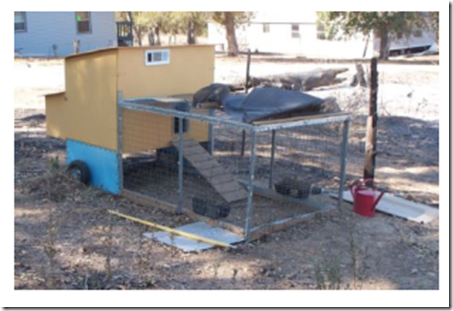 The "portable chicken coop" wheels proved to be very unstable and difficult to move easily.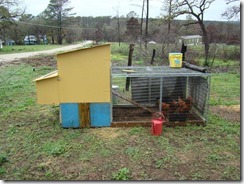 In the summer sun, the chickens were roasting alive so I moved the portable chicken coop under a "Hoop house fence" (see- http://www.pgherbfarm.com/MarysBlog/?p=2520 ).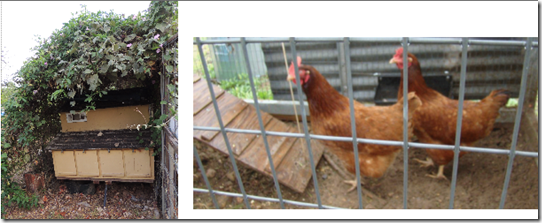 The vines that covered the hoop structure  gave good shade. This worked OK, but this portable chicken coop now had a permanent home. The chickens ranged freely around our property and came home to roost every night in the new home. We could also cage them in the run when necessary (until I got some smarter chickens and they got out). They laid eggs there that were easy to gather.
One day, one of the chickens disappeared. I searched everywhere for several weeks and could not find her. I didn't find feathers that usually told me a chicken had been killed by some predator. Once I thought I saw her, but couldn't be sure. I couldn't imagine where she was for almost two weeks. One day I noticed the lost chicken under a bush beside our porch. I carefully approached the area and found her with about a dozen eggs. Mystery solved, she had been laying and sitting on her eggs under that bush. I removed the eggs when she left to get some food and water. She came back immediately after her pit stop and saw that her eggs were gone. She looked around and the only culprit she could find was Pepper, our dog. She pestered our poor falsely accused dog for a week after. She gave up her nesting spot eventually and followed the other chickens into the chicken coop that night.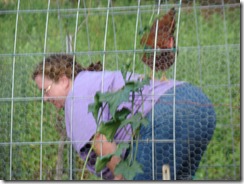 After some pretty hefty hen pecking she disappeared again. She did not return to the bush beside the porch. I was unable to find her again. One day I noticed something moving in a decorative pottery pot on the front porch. We had fake plants in the pots after the seasonal summer plants had died. I was sure I saw something move, either the fake plant or . . . (do you see her? She's a barred rock chicken)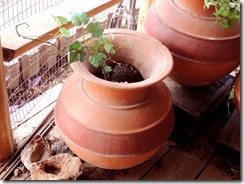 Hoping it was not a snake or other varmint…I carefully looked in and impossible as it seemed . . . there was my missing chicken. I thought . . . No way she could fit in that pot. But there she was.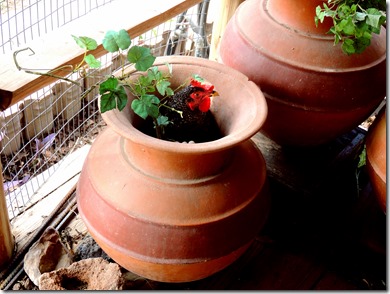 I looked into the pot and found 19 eggs!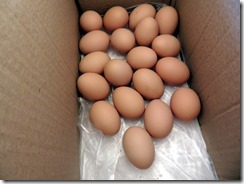 We now have full growing plants in those pots. She cannot get in them now. We are hoping we have convinced her that the chicken coop is where she should be. We hope we have solved our case of the repeatedly "Disappearing Chicken."
Click here to see our mystery solved!!!
https://www.facebook.com/100006289247823/videos/vb.100006289247823/1928406370712319/?type=2&theater