,April 29, 2017
I have a lot of things I am curious about. I have read a lot about Chinese medical practices including their Barefoot Doctors programs. I have never actually explored the acupuncture practice Until NOW. I have made an appointment to visit an acupuncture Dr. I am excited. Will report after my first experience.
Acupuncture is a technique in which practitioners stimulate specific points on the body—most often by inserting thin needles through the skin. It is one of the practices used in traditional Chinese medicine.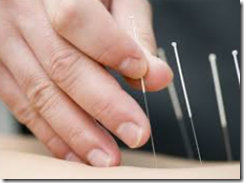 May 3, 2017  First Appointment
I prepared forms that described my conditions and other info.
I am 74 years old. I have multiple health issues but the pressing one is the swelling and discoloration in my right toes and foot .
The doctor asked a few questions, examined my tongue top and bottom, Examined my foot. Asked if I had seen a medical doctor about it. I told him I was treated with antibiotics for 30 days (no results). Now the medical doctor was exploring rheumatoid arthritis and other possible causes. He told me I did not have an infection or arthritis. He said I should get a blood test for kidney problems. He was very adamant about getting a medical doctor to test for kidney problems, repeating this several times.
He asked me to get on the table and take my dress off replacing it with the (fabled) hospital gown, open in the back. He said I should lay on my back. He left the room and returned shortly.
I could not see what he was doing when he put needles into my belly, hands and arms. It seemed to take no time at all. I only felt occasional small, pin-pricks. My daughter, Catherine was watching and when the doctor left again, she told me what she could see. She said he put needles in a hollow tube and just tapped the needles into my skin very fast. Then he removed the hollow tube and wiggled the needles again several times.
Catherine tried to photograph the needles in various places so I could see them, but the needles disappeared in the picture. She took several and we couldn't see any needles!
When he returned in 10 minutes he asked if I was uncomfortable. I wasn't so he said he would return in 10 more minutes. I did not feel anything the whole time. When he returned, he removed the needles, throwing them in the garbage. This part of the session took 20 minutes. He had me turnover so he could add needles to my back.
Again I did not feel anything at first. He moved the needles in my right leg a little and it flashed a hurt (the kind of hurt of a mild toothache.) He seemed pleased. When he left again for 10 minutes, I felt real pain in my right calf right away. It hurt enough that I asked Catherine to call the doctor. She went into the hall and couldn't find him. By that time the hurt stopped and I figured it happened because I flexed that muscle. So I concentrated on not moving muscles. This session with my back lasted 20 minutes total as well. He removed the needles.
Next he did cupping.
Cupping therapy is an ancient form of alternative medicine in which a therapist puts special cups on your skin for a few minutes to create suction. People get it for many purposes, including to help with pain, inflammation, blood flow, relaxation and well-being, and as a type of deep-tissue massage.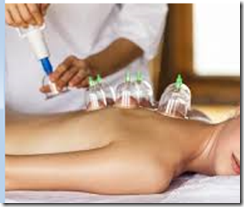 I could not see but Catherine told me he heated little glass globes for a small second with a grill lighter and put them on my back. I flinched because they felt really cold. He seemed to put them on and remove them quickly. Catherine saw red circles on my skin. He said I could dress and left the room, and he strongly recommended another session in a week.
After a short time we decided we must be finished. We went to check out without seeing  him again. I felt like I wished we could see him again to discuss or review what happened. We paid, made another appointment for one week later and left.
We discussed the appointment. It all had gone well, and quickly. We both were surprised he left us so abruptly. We decided to get lunch. As I got out of the car to go into the restaurant, I noticed the discoloration in my right foot was nearly gone. It had been very dark and bruised looking and now it almost was the same color as my left foot. I had a little swelling in my left foot before the acupuncture session and now my shoe was falling off the left foot.
For the rest of the day, I felt more positive then I had for some time. My right foot did not hurt and I walked around in several stores as Catherine and I made the best of our trip to Austin by exploring the stores in the area. Maybe I overdid things as I was really fatigued when we got home.
The next day I did not see any appreciable change as I rested a lot. Catherine and I smoked some vegetables and hamburgers with a new little smoker box I bought for our propane grill, I wanted to try it out. Spectacular results! We will do this again soon.
I did notice I felt reduced pain in my right foot when I walked around and the swelling was down. I called my medical doctor because she told us she supported acupuncture and I thought she would be interested in the results. I needed to ask if there was a blood test for kidney problems.
When she returned my call, she said, "your kidneys are fine. We already did the test for this and other things when I had them take blood in March."
But by the second day after the acupuncture session, I was able to sweep floors, do laundry, sort and file a backlog of paperwork and clean house. I feel certain that I was able to do these things that had seemed too hard for the recent past because of the acupuncture and cupping.
Second session with Acupuncture.
I did not feel relaxed, I think because I was planning on not coming back and I hoped I would not have to explain. I had begun to feel that I was focusing on myself too much in an expensive way. I had reviewed literature on the subject of acupuncture and most of it focused on pain relief. I did not think pain was my problem, It was focused swelling and pain in my right foot.
My daughter observed that I was very tense when the Acupuncturist entered the room. He asked how I felt, I said, "OK". He said how things were with me and I assumed he meant my swollen foot so I said, "It is much better". He said, "Yes, that is good".
He put a towel across my shoulders and began a very vigorous massage. He asked at a few seconds into this massage, "Does this hurt?" I said, "Some of it, yes". He said, "Good". Then continued.
Then he indicated he wanted me to remove my dress, put on the well known hospital, glamorous shirt with an open back and climb up on the table. As he left the room, he said over his shoulder, "Lay on your back. I will return shortly"
Lying on my back I reviewed my reasons for not coming back after today. Although I benefitted from the previous session in reduced swelling and pain in my foot and a general positive feeling overall I had more energy. I knew I could not afford many sessions. Since there was a language barrier, he is Chinese, I could not discuss in any depth what I felt.
When the acupuncturist returned, everything was as it was the first day. He put needles in my legs, arms and head, went out for 20 minutes, removed them, asked me to turn over so he could treat my back.
More needles were applied to my back, the calves of my legs and the areas of swollen ankles on each leg. After 20 minutes he did cupping and at first he rubbed a cup up and down my back then applied several cups, removing them almost right away.
I asked him, how many sessions did I need to come? He said, "Three, this is number 2 and one more, then we will make plans for 2 a month, 1 a month or even longer." He finished the cupping and left the room. As I dressed I thought, "well, one more session is OK, I just couldn't justify 8-10 sessions. I guess I will come back next week"
I did not know what to expect. Last week the swelling and pain reduction was quick and lasted all week. The swelling and pain seemed less again in my feet but also in my finger joints that had been sore. I felt really tired. This tired feeling lasted for 3 days, everything seemed difficult and I wanted to sleep a lot.
Third session. May 17, 2017
I sent and email .pdf file to the Acupuncturist showing him my blog posts about the last two sessions and my response to it.
I thought he never gets "feedback" about how his patients feel about acupuncture sessions, and how much they understand the sessions. I had some anxiety about how he would feel about my comments. I hoped the blog would open conversation and that we both understood my concerns. When we arrived for my appointment, the Acupuncturist said he did not get the email! Darn. So I outlined what was in it to open conversation about my sessions.
This did open the conversation, the Acupuncturist seemed very glad that I had made the communications effort. I told him of the difference between the last two sessions He described what the acupuncture was addressing in my problems. He also told me that the reason there was differences in the two other sessions was due to how I felt and the weather that was rainy and dark, so the biometric pressure may have influenced how I felt and responded to my second session.
(Apparently I am very sensitive to what is going on in the environment, during full moon nights, I don't sleep for instance. Bears are know to get edgy due to changes in the barometric pressure, we may not notice these things but they are very real)
Also what I called "massage" on my shoulders in the last two sessions was actually "acupressure". So the first two sessions had acupressure, acupuncture and cupping.
Based on what we discussed, the Acupuncturist said he would not do acupressure this time. So the session was acupuncture and cupping. He said he would adjust the session to help with my fatigue last week.
As we were leaving I felt he was glad for the communications I sent in email, I assured him I would send it again. Since he did not get my first email and I sent it again. He got it and commented on it:.
From the Acupuncturist
Hi, Mary,
Thanks for your email and the attachment. I got chance to read the words you wrote on your blog. You have a great observation about the acupuncture and detailed information about your feeling and so on.
So to summarize this third sessions results:
After this third session I felt good. I got work done around the house and my head seemed clearer when I had to review a pile of mail that had accumulated when the post office mistakenly put a hold on our mail for two weeks. With the junk mail, many bills and things I need to pay attention to were in that darn pile. (I had been putting off facing this sorting of files). I barely notice the pain in my feet, the pain in my hands is also un-noticeably less, swelling is down and I have more positive feelings.
I set another appointment in one week