Catherine and I love Rueben sandwiches.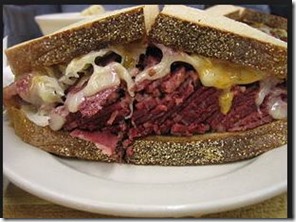 MMMM…rye bread, sauce (we use Thousand Island Dressing), slices of melted Swiss cheese and a pile of thin-sliced corned beef-topped with a generous mass of sauerkraut.
We also knew the sauerkraut had beneficial microbes if the sauerkraut was raw. We found some raw at the grocery store, but the flavor was weak. We decided to find out how to make it.
We reviewed a lot of videos and began to think we did not want to spend a lot of money on airlocks, special containers and cultures. Surely there was a simpler, more direct way with mason jars we already had. We kept looking and found just what we were looking for. It required the following:
a Simple recipe
a Head of cabbage
sea salt
wide mouth mason jar
plastic baggy
We include the video url at the end of this commentary so you can see how we did this and try it yourself. Let us know how it comes out for you.

We went to the grocery store and looked for cabbage in the fresh veggie section. It is June, but I thought there would be no problem finding a head of cabbage. There were only very small green heads that looked like they were distressed.

Looking around more, we found some larger healthier looking purple cabbage heads. We wondered if they would do the job and since our selection was limited (maybe into the autumn) and we were ready to try our hand at this new kitchen adventure— So we bought two heads.

At home we began cutting one of the heads of cabbage in preparation for slicing them very thin with a knife. Purple cabbages are beautiful! I had to pause and admire the slices as we continued.

The simple, direct directions were to

shred 2 pounds of cabbage (we did this with a knife because we like the way it looked instead of using a food processor) Two small heads made 3 quart mason jars full.

Mix in 1-1/2 tablespoon of sea salt

Massage for approximately 10 minutes (it was amazing how much water was produced with so little salt)
Pack it in the mason jars and press down to remove as much air as you can. We pressed down with a small drinking glass.
Leave about 1 inch from the top of the jar, then place a plastic bag with water on top of the cabbage.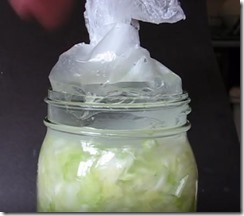 This picture from the video shows how to place the plastic water bag. This setup is a good air lock. It pushes the cabbage down with its water weight and keeps air out while letting gases escape. Place this on the counter for 3-10 days.
We had some sauerkraut left from the grocery store and wondered if we added a Tablespoon or so to one of our jars full of cabbage– would it add a good culture?
Heck, we were experimenting weren't we?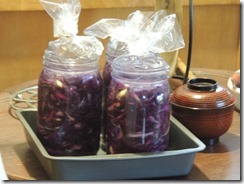 After about a 7 days we lifted the plastic bags in the jar with the added culture and the one without any addition and checked for any problems. They both smelled good and had no signs of mold of spoilage.
We tasted both. SURPRISE! they were good. A little sharp but maybe that would age out. The jar with the aged culture from the grocery store was milder and we thought it must be because it had caraway seeds in it. Our jar with just salt was sharper tasting.
We checked, added water and pressed out any air and replaced the plastic water bags. We intend to leave them with the plastic water bags until we plan to use the sauerkraut. The plastic water bags seem to seal them from the air and let the gas out.
Place them in the frig and they will be useable up to 3-10 months (depending on who you believe.)
Here is the video we followed to make our experiment:
Small Batch DIY Home Made Sauerkraut