I was born in 1942 in the Territory of Alaska. (Alaska did not gain statehood until 1959)
When I was 10 years old, I asked my Tlingit Grandmother to teach me her language. She said,
"Why? Who will you talk to? When I die, when your Mom dies, there will be no one to talk to. No one else is learning." I could not make her believe I was serious.
It seemed she was right.  Among many kids I knew in Juneau that did not live in the Douglas or Juneau Indian Villages few were learning any Tlingit language except a few words.
My family lived among white people and only spoke English. We heard our Mother, Grandparents, Aunts and Uncles speak Tlingit with each other and with Tlingit friends, but they did not want me to learn Tlingit because English would help me in life.
So I grew up without much culture. I learned about Tlingit culture from  other Tlingit children I was friends with at school. Then later when my Mother took my brothers and I to Hawk Inlet, a salmon cannery for the summer I spent more time with Tlingit children and adults.
We only had electricity for 3 hours in the evening, so around 9 PM if the older people didn't want to go to bed yet, they gathered around a large campfire and sometimes told old traditional stories. Here I was captivated. While other children ran around the circle of adults around the fire, I stayed close to my Mom because I knew the old stories might be told. So in this way I picked up pieces of Tlingit culture.
I married a soldier stationed in Alaska whose home was in Texas. I joined him when he was discharged from the Air Force.  I was a young teenager. So I spend the next decades going to school, raising children and working I began to think our Tlingit culture was disappearing just as my Grandmother predicted the language would disappear with the death of the older generation.
My husband was an student archeologist and we spent 8 summers working on various sites around Texas. I met and mingled with many people who were interested and valued Indian cultures. I read everything I could find about the Tlingit culture which was very little until the land settlement that created the Sealaska Corporation and Heritage Foundation. A lot of cultural material has been created since 1979 and I absorbed it all.
My respect for my Tlingit heritage grew as I learned what a beautiful, complex and vital the traditional culture was and I was excited to continue to learn about the revitalization of the Tlingit, Haida and Tsimshian language and culture. Sealaska Heritage Foundation and other groups began publishing studies and preservation efforts of the culture. Tlingit language, traditions, celebration and dances were preserved and taught to the young generation!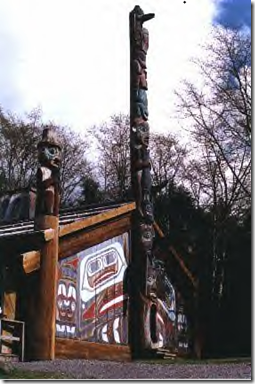 With a growing family and work commitment, I only got to visit Alaska a few short times. It was expensive to travel from Texas to Alaska. In the 1980's. I got publications that informed me of the wonderful energy that was blooming in the Tlingit culture.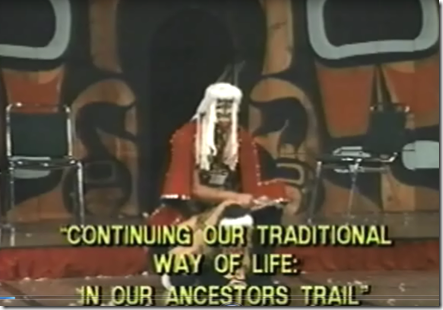 Among the memorable Sealaska Heritage publications was:
Dauenhauer, Nora and Dauenhauer, Richard. "Because We Cherish You…" Juneau: Sealaska Heritage Foundation Press, 1981.
17735 words (both in Tlingit and English translations)
This document is priceless to me. It records the Elders conference in Sitka.
I treasure this document as it has given me a depth of appreciation for those Tlingits who preserved so much for so long during the time of suppression of our culture. Here are some of the things I love. If this seems fragmented remember this is a translation of the original Tlingit. At first there was sorrow, then hope…
George Davis
    Because this time
the cover has fallen away
from our culture, our Tlingit people
how they used to do things…
Even now our grip
is weary from holding on to it
here
those of us who are Tlingit.
It is deep to where most of it has sunk from our grip.
We are still clutching only the tip…
our grip has wearied
on our Tlingit culture that we anchored with a pole.
Now
when it began to fade
from sight
yes
we heard faintly
what our ancestors used to say
yes.
It is as if
beneath a pole
behind a pole
we were looking for its resting place…
Charlie Joseph
"People of honor they strand off in many directions
their lifeline…Their lives point
in many directions.
I will now Paraphrase words of many who spoke and the way the stories were woven and recalled. This is a small sampling to give you an idea of the contents of this publication:
…Those that left me behind, now it's as if I will lead them out, this is how it seems to me.  …These fathers of mine who were enchanted by the coho spirit.  I don't want to have it lie unattended.  There are too many people's life lines leading into it, this Sitka.
…it was my grandfather who was enchanted, enchanted into the wolf spirit.  Even as he fasted and was chanting to prepare for them, they ran out on a ridge.  When the she wolf began to separate from her pup, he would begin howling after them the small one.  …We have gathered here for this wolf spirit dance is so it will not turn bad for them,  be are cautious when the shaman spirits are used….when they use this wolf spirit song to dance, the wolf spirit is lapping it up form among them.  He is lapping up their trouble from among them
…People would stand at the back of the house when the spirit songs were sung…That's a spirit song.  They would stand up and hold their hands up to ward the shaman spirit off with the heel of their hand.
As if it is my anchor is how I think of it
my maternal uncles
that they left these behind in my care.
The Shark Tunic
is in my hand
Their ermine headdress is also in my hands.
All of you who came out here
I am bracing you
that it not turn bad
that your words
not float aimless in the air.
The Tlingit culture is revitalized and can be seen today as a important element in Tlingit lives.