Sorry, I am so late on reporting this most interesting Meetup.  Our members were treated to a most wonderful, interesting Café, and Gardens that support nourishment for Body and Soul. Comfort Café in Smithville relies on good food and good hearts to help sustain a rehabilitation center.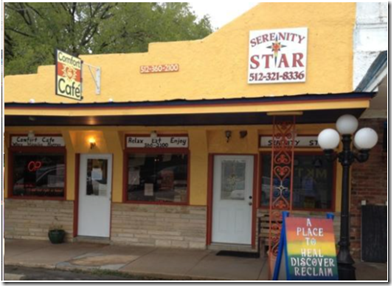 They purchase fresh ingredients from Johnson's Backyard Garden, an organic farm in Austin as well as providing eggs, vegetables and herbs from their own backyard gardens.
Our outdoor tour showed us the chickens, gardens and equipment shed every gardener needs.
There are shady outdoor areas to sit and a wonderful café to top off our visit.
The café has no price list as they are a "Pay What You Can" café. The Comfort Café offers free meals in exchange for an hour of labor. There's plenty to do. There are tables to bus, a small herb garden to tend and the enclosed dog-friendly patio to sweep.
Menus change quarterly; summer, fall and winter offerings include a wild berry salad, shepherd's pie and chili with cornbread waffles. Eggs Benedict and eggs Florentine and an omelet with artichoke hearts tucked inside are on the menu year-round, as are burgers and pizza. One of Lopez's favorite menus, made for special occasions—when a musical group has come to entertain, say—is grilled salmon with peach-mango salsa and jasmine rice pilaf.
Comfort Cafe (
for more information see:
Texas Country Reporter)
https://www.youtube.com/watch?v=zc81yYFB9lA