My doctor recommended some exercise therapy after I told her I saw a local exercise place that had aqua therapy. That appealed to me as I loved swimming. I learned to swim when my kids took lessons at the Red Cross local city pool classes.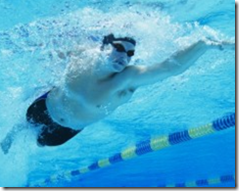 My three kids and I were hooked and went to the local pool a lot for several summers. We even had season tickets. We loved the sunny days and often stayed from when they opened to closing.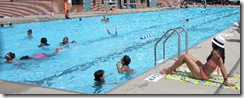 Soon the kids, one by one, began fleeing our nest. When all three were out of our home, I got busy with other things and rarely went to the pool.
Years later (decades) after I retired, I began having health problems and one solution was to put me on oxygen therapy. I hated the look of the plastic tubes in my nose, but it was unavoidable.
I became aware of the way people, adults avoided looking at me when we went shopping. Kids on the other hand would stare trying to see why I looked different. Often they would smile or even wave. Eventually I got used to the apparatus.
Feeling sorry for myself one day and said, "Oh, I miss swimming, I guess I will not ever be able to do that again."  (a bid for sympathy).
My youngest daughter tried to make me laugh and suggested I take up scuba diving.  The image seemed preposterous. We shared a laugh.
No sympathy there!
So back to my Doctor's recommended exercise therapy. She agreed it was a great idea and arranged for me to go to the local exercise place. My daughter and I went to check it out. No swimming pool. I don't know how I ever thought I could use one anyway. (one could always hope that I would find a way.) Oh well.
The pool they had was a small water hole with a treadmill in it, You would get wet waist deep. I was assigned a young woman to show us around and I was told she would be my therapist. There were not many people there and they did not look happy.
The therapist whizzed us through the facility (she was FULL of energy).
and assigned me a prepared sheet with two exercises on it…  Homework.
We left and I was so relieved. "I never want to go back there, the rooms were dark, the water feature was disappointing and worst of all the therapist was full of brisk energy.  I doubted if she had any idea how to help a 75 year old out of shape woman. I did not think the prepared homework took into account my current rundown condition.
So I will just do a few things like tai chi and yoga  with the help of the internet at home and on my own.  At my natural speed.
Slow, quiet, deliberate movements. Ahhhh.