We are again faced with a potential disaster. We have a small Aquaponics building that we have kept running after my husband who designed the system died. We felt we had learned enough to keep the system running.  We had harvested some vegetables and fish and began to think we had things working.
Today while showing an interested visitor who wanted to see how Aquaponics could work…we noticed our "thermal wall" of water filled 55 gallon drums WAS LEANING DANGEROUSLY TO ONE SIDE!!!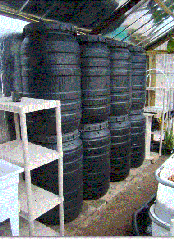 Catherine had to go to work and we could not address the problem right then but both of us are really worried. If we can't empty the water from the drums and reset them right away, they could pull over the whole house wall on that side. Catherine and I  hope to get started on our rescue of our Aquaponics building tomorrow morning. (I am not much help due to health issues but I offer support when I can.)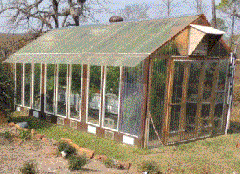 I will give you an update as soon as we attempt to save our little building.
12/3/2017 Aquaponics 55 gallon drums shifted.
Posted on our blog: Darn, Darn Double Darn if it is not one thing it is another…always unexpected.
Lisa F offered to help and Will volunteered his son, Landon. (I hope Landon won't be surprised!)
Thanks a lot for the offer to help you guys it is great to have friends..
When Bud, Catherine and I put the Aquaponics building together this was going to be a trial for a larger one later. We did not intend this to be permanent.
When Bud died Catherine and I decided to try to make this small building provide the two of us with veggies and fish. It seemed we were on the right track. We did not anticipate this problem.
The building is very small and full of STUFF. The space to work is very tight even for the two of us. Here is our plan for a solution.
1. We will siphon water from the top 55 gallon drums until we can remove them.
2. We will then siphon the lower drums.
3. We will try to stabilize the ground to prevent this shifting when we reinstall the drums.
This is a project that will take time if we can save the building now. Siphoning is slow work but safe. Stabilizing the base at ground level will require some study.
We begin siphoning this morning. I will keep you guys posted.

Day 1
We started emptying the barrels with a siphon hose. One barrel took about 45 minutes (our hose was ½ inch dia) Since Catherine had to work we just put the siphon in the next barrel on top and let it run on its own.
Day 2
Almost removed top layer of barrels. The 3rd one gave us a mystery. We began siphoning and while we waited we began cleaning the grow beds. I checked the progress of the siphon periodically and became aware that the water had quit flowing in the hose. Catherine came over and decided that there must be a blockage in the 20 foot siphon hose. We tried to flush the hose to no avail. We even tried hooking up a water pump to clear the hose. Several tries of a variety of possible solutions and we were stymied! Catherine accidently leaned on the barrel and it moved. It was empty. We felt foolish as we removed it from the top layer. We laughed at the thought that we never considered that the reason no water flowed was that the barrel was empty.
Now we are siphoning the last top barrel.
Day 4
We examined the extent of the damage to the building. Several times in the past three years we almost gave up trying to keep things going. We always pulled back from the decision each time. Now…we had to decide.
It has been 3 years since Bud died. Catherine and I have decided that we cannot keep the Aquaponics building working. Without Bud it just keeps going under. This morning we decided to shut it down. I am crying because it meant so much and I really wanted us to make it work since it was Bud's last project.