I woke up to a real treat this morning. Snow. I rushed to wake Catherine (she was the only one of my kids here). "It snowed… snowed… Come see before it disappears" I yelled.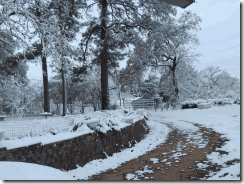 I was pretty young and did not think deeply when I left Alaska to marry a Texan. I had a lot to learn. One thing that surprised me was it NEVER SNOWED.
We lived in East Texas for several years and one day while shopping for groceries, I heard yelling, "It's Snowing!".
There was a rush to the front of the store to see out the picture windows. I looked and could not see anything. Then a few wisps of snowflakes were visible for a few seconds. Everyone chattered about it, satisfied they had seen snow.
I shook my head remembering that I left Alaska right after a blizzard. The snow was piled up over my shoulders around our house. I barely made it to the airport.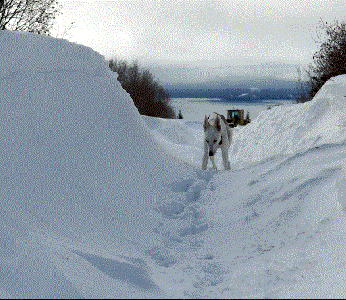 It was a few more years before snow came again. We had three kids. This time the snow was big flakes and stuck to the ground. I rushed around getting the kids into warm clothes. We had no need for winter boots since snow wasn't probable, I got six plastic bread sacks and wrapped the kids feet in them to keep their feet dry. Then I herded them out to play in the wonderful stuff.
For years following any threat of snow I watched for signs. Even if it came in the dark of night, I would round up sleepy kids out of bed and outfit them for snow. I could not resist. We made snow men and had snowball fights until we were exhausted then we went in for hot chocolate and a warm bed. My husband watched this peculiar behavior of mine with the comment, "Gees Mary, sometimes I wonder about you." In later years he joined us to check out the icy creek and explore.
This behavior did not stop when the kids were sick with colds. I lined them up in front of the window in the living room so they could watch me build our snowman. I often wonder what these kids, born Texans, think about this now.
I know I have aged. It always surprises me in odd ways to find this out.
I did not go out in this snow this time. I was content to see it out of the windows and doorways. Catherine went exploring with Pepper, our dog and brought pictures back.
Yes I have aged. Bud, I still get a kick out of seeing the world transformed to a wonderland of white.