Seeing that snake catcher rod reminded me of an event in our family. This is not a story for the weak of heart with teens in the wilds of Texas. My young son was with this group of teens.
The kids were young teens and our family went to a Texas Archeology Field School one summer. An elderly man had been a missionary in China and he like telling stories to the teen boys. They hung around to hear his adventures.
One day he told them how he would catch snakes with a hollow bamboo rod and strong small rope put in side the bamboo pole in two direction. He told them to hold the two ends of the rope and only allow a loop at the end big enough for the snake you wanted to catch.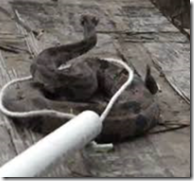 Naturally the teens set out to build this snake grabbing pole. I was unaware of what they were up to. I was standing outside of our camp and glanced up. I saw the boys circling something on the ground. I stopped to watch.

Suddenly all the boys jumped backwards and onto nearby large rocks. They began throwing smaller rocks to the ground. They killed the rattlesnake with the rocks because when they got the rope loop around the snakes head, the rope broke and infuriated the snake. I don't think they knew it was a venomous snake. But they were careful handling it even when sure it was dead..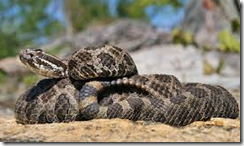 The guys came to our camp with this dead snake wanting to know how to skin it. One boy heard you could eat it. A TV crew showed up by chance and my son began skinning the snake (he made a hat band of it like this)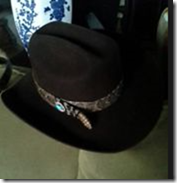 and then my son, Ken  cut the meat into chunks roasted it over an open fire. Everyone had a taste, the boys got on TV and my son got a hat band.