We had a neighbor that raised show goats. One mother had three babies and rejected one of them. My neighbor brought the rejected baby goat to us and ask if we would raise it.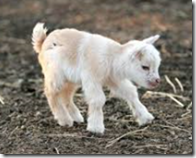 We had a touring Herb Farm and did not want goats to feast on our carefully planted gardens.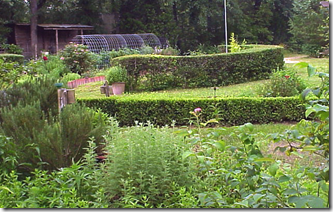 My neighbor said if the goat survived to be able to take care of itself, she would take it back. It was hard to resist the longing in my husband and daughter's eyes. So our adventure with the cutest ever baby goat began.
Bud loved goats, he had a pet goat when he was young. He never missed a chance to show our kids, grandkids, and great-grand-kids goats close up. So all of us were open to helping this little creature.
We put a towel on the floor next to a place we could feed her and she wouldn't slip on the wood floor. When we sat with a bottle the little white goat would come running to stand on the towel with her tail going a mile a minute. We looked forward to our interactions with this marvelous ball of life as she grew and explored our house.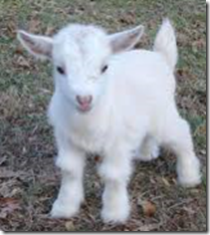 Thanksgiving was near and we were planning to drive 340 miles to celebrate with my oldest daughter in the city. What to do with the baby goat?
I made a "pouch" like people in Mexico or India had to carry infants, so I could keep the goat from trouble and make sure she was warm.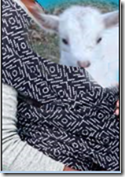 She loved being in the snug pouch and snuggled down for the trip. When we arrived at my oldest daughter's house, the baby goat was a hit.
We were called the "Green Acres Relatives" after a TV show.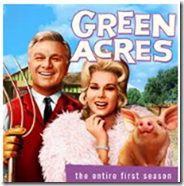 The whole time, baby goat had admirers and I didn't see her for hours. She chased around the house with the dogs. Someone was always feeding and snuggling with her and she just took it all in. Once my son fell asleep holding her tightly on his chest. Too soon we had to return home.
At home very soon we began to realize that the "Baby" was almost fully grown. Sadly we had to return her to our neighbor because we could not risk our herb theme gardens. We finally took her next door. For days, while working in the gardens we would hear goats bleating. Bud swore he knew our little goats voice. I know he wished he could keep her.
One day our neighbor told us she sold our little goat. She said she was glad because the goat kept trying to get in her house and would break down fences and lead other goats out. Thinking about this, I bet we would never be asked to help raise another goat for our neighbors. But each of us have rich memories of that little bundle of love and joy who shared our lives and our Thanksgiving with us and our family in the city.