I don't know if what your plans are in the long run. If you still want a city job maybe I am off base but here are some thoughts about making sustainable farming profitable. You already are expert on developing a variety of income streams.

Bud and I began looking for information when we knew he wanted to move to the country. I had no experience but I wanted to help him realize his dream. We found a place called "Peaceable Kingdom" A school between Navasota and Brenham, by founder Elizabeth R. Winston. She grew herb, vegetables and flowers as well as chickens and hogs. She was affiliated somehow to a university and let students offer to build something at the Peaceable Kingdom they wanted to build but did not have land. They could design gardens or a cooling deep dip for hot summer days, one project helped her move an old barn on to her farm. We visited often and attended every workshop we could. Fredericksburg Herb Farm in the Hill Country was one of the many we investigated. While checking out these places we formulated our herb farm ideas.
When Bud and I had the Purple Gate Herb Farm, we were encouraged by our Caldwell Better Business Bureau to become non-profit. It was promoted to us as a financially beneficial move. I never checked into it, but it seems to me you could benefit from this idea if it would help you financially.
At the Purple Gate Herb Farm, we gave tours of our herb gardens, gave demonstrations of pottery firing and food preparation with herbs. People would come in large groups, sometimes in bus loads and spend the day. This gave us enough money to build our Herb Farm and develop ideas.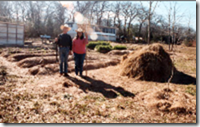 It was fun finding faqs to share, like these:
Hezekiah the son of Ahaz king of Judah was wounded and became ill.
Then Isaiah said, "Prepare a poultice of figs." They did so and applied it to the boil, and he recovered.2 Kings 20:7
For Isaiah had said, Let them take a lump of figs, and lay it for a plaister upon the boil, and he shall recover.Isaiah 28:21
You could offer workshops for a modest fee and people would come to learn some of the things you already make available to us. Several workshops that teach what you have learned raising goats, hogs or any other creatures you help could help the young people all around here that are trying to start small farms. You already do workshops on cooking/canning. These can be expanded by asking speakers to present info. We had to pay an honorarium for some of them to come but most were glad to be asked and to help and spread the word about rural living.
You could have a Farmer's Market shop that allowed you to sell your products from the farm–soap, and jelly…..
I think you already do all of this in one way or another, I am amazed at all you know and do. These are just thoughts I have hoping you will consider some of them. And I hope this letter will encourage others to make suggestions on sustainable farm income.