by Catherine L Mills
Judy E.s lost her home off of Cottle Town Road in the Bastrop Complex Fire. After deciding to rebuild, she attended many of the wildfire information programs to learn about fire resistant building techniques. She learned about different natural building methods, and found information and help on the Design Build Live website. She decided on compressed earth blocks as her building material.
According to the Design Build Live site – http://designbuildlive.org/what-is-natural-building, Compressed Earth Block:
Slightly moistened earth is compressed under great pressure into blocks that are immediately ready to put into the wall. Compressed earth blocks (CEB) can be used to form perimeter or interior load bearing walls or can be used for infill within another, structural system. These versatile blocks have been successfully used in both residential and commercial construction.
The advantages are:
•    Local soils from your own property or local construction sites can be used, minimizing shipping cost. Soils with clay in them work best. Judy used the dirt from the clearing of a site in the Bastrop Industrial Park by the Hwy 95 junction. Her contractor said that its clay content was perfect.
•    Bricks can be made onsite fast, the wait-time to dry is minimal, and construction can be quite fast. Judy said that they made 5500 blocks in a week.
•    The blocks are made uniform, simplifying the design and cost estimation.
•    The blocks are made from soil, and the grout is an earthen or concrete slurry so it is non-toxic and does not out-gas.
•    Earth block walls do not burn, which was very important to Judy after losing her previous home.
•    They are insect resistant because the blocks are very dense and fit together so closely due to their uniformity. Although having gotten some of her soil from a dairy farm, Judy believes that some of the cow manure got into the mortar mix, and attracted ants.
•    They are mold resistant, because earthen blocks have no cellulose fibers like wood or drywall so do not support mold.
The foundation had to be very strong to support the heavy walls. The first course of blocks was set with concrete mortar, but the rest of the courses used an earthen slurry. The walls were capped with concrete and rebar.
Pre-made trestles were used on for the roof construction. It was a double roof spaced apart using 1″x 2″ boards.
Paths were made within the wall to accommodate electrical lines and pipes. It is a good idea to make plenty of electrical outlets and such while designing your house, because it would be very difficult to add more later, when your use of the space changes.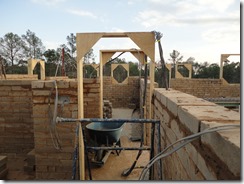 Judy used a concrete stain on her floors. She said that, she thought it would absorb into the concrete the way wood stain did on wood. Apparently not though, because she dropped a bit of tape on the floor and it peeled up some of the stain, so it must be a surface treatment. Some concrete stains do combine with the lime in concrete, and are therefore more permanent. Sealing and waxing is suggested to keep the floor looking good.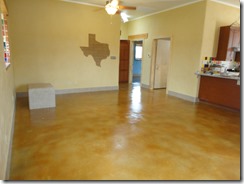 Judy's two bedroom house is 36′ 10″ x 34′ 4″ on the outside. The walls are 1′ 8″ wide according to the plans in a thick notebook she had on her living room coffee table. The inside layout is 1100 sq ft. The kitchen, dining room and living room are very spacious looking.
I liked her layout. The bathroom and the laundry are together, with the kitchen on the other side of the wall, consolidating the hot water usage into a small area of the house which minimizes heat loss from long pipes. Not to mention minimizing the cost of the pipes. She has a solar hot water heater, that she bought from the Industrial Country Market, just this side of Columbus, TX (South of La Grange on TX 71). Check them out, they are entirely off the grid, and have classes on various sustainable technologies. For information on the type of solar water heater, look it up at www.dixiesolar.com.  Her backup hot water heater is a tankless on demand system.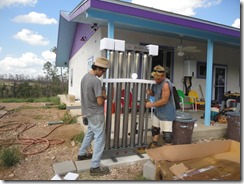 A Solar Tube was installed within the ceiling, bringing sunlight into the house. Mirrors in the Solar Tube concentrated the sunlight, making it very bright. Judy laughed, saying a friend wanted to know where the switch was to turn it off. I guess she had to tell him to take it up with God !
made at Café Monet. Café Monet is a paint your own pottery and mosaic studio located in Austin, Texas. The tiles were very colorful and added a personal touch to the house.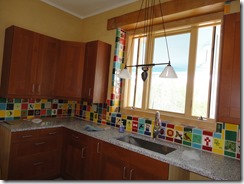 Also, she put in a 'Truth Window' that shows the composition of the walls. She got the idea from straw bale construction.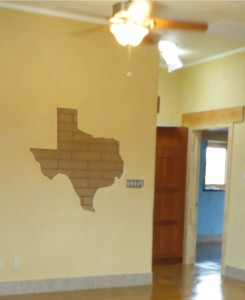 All in all it was a fire resistant, sustainable endeavor that turned out comfortable and spacious in a very small space indeed.