The TV droned on in the living room providing one horrible story after another. A plane shot down with hundreds dead, a car crash killing 20, a lone shooter with an automatic rifle shooting people in a mall, on and on the litany of the horrors of our society ticked off the events of the day.
My daughter, Catherine and I stopped preparing dinner in the kitchen to hear a TV account of teenagers who had built and raced solar cars. WOW, we said to each other, We went closer to the TV to hear this amazing news.
But there were only 2-3 sentences about this incredible news and the listing of death and destruction began again.
We groaned, "Shame on those news reporters. They are ignoring the positive future of the United States."
Catherine went immediately to the computer to see what she could find out about this news. She found out the Solar Car Challenge program has been around since 1993. We asked each other, "Why have we only just heard of this?" The News media has let us down, that is why!
Catherine found an open house in Austin, Texas about 40 miles from our home the next day! The organization "Solar Car Challenge" was gathered to show off the teen designed and constructed cars that raced from Ft. Worth to Austin Texas. (Approximately 289 miles).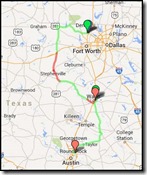 "Lets go see the solar cars," we said to each other. We must take pictures. Imagine, high school kids are doing this!!! So Catherine found the location, the time and we planned to go early in the morning. Here is what we found to share with you:
There are more photos and videos From the Solar Car Challenge website:
http://www.solarcarchallenge.org/challenge/
The article on the site expresses hope and positive futures:
    …"All in all, we hope you'll find the following projects compelling, worthy of emulation, and exciting examples of ways 21st century technologies are reinventing the concept of "school."
Be sure to check out the pictures or videos on the site as they will lift your spirits and let you know that these high school kids are the future of our country.
Spend some time searching for more organizations and projects like this that encourage students to develop:
authenticity, collaboration, and the use of critical thinking skills, global implications, in-depth investigations, and a very high student motivation and engagement factor.
And please share what you find with all of us! There are reasons to hope and if the news media ignores the positive we can still share the great news with each other.