I posted "News from a Brighter White House" in 2010.
http://www.pgherbfarm.com/MarysBlog/?p=186
My husband, Bud, and I have been thinking about solar installations for years.
This year our small Texas rural farm catapulted into the 21st century.  We installed a solar system!
A little history
Our Purple Gate Herb Farm sits on 2 acres. We moved to Smithville, TX and began planting and planning our Herb Farm.
Reality imposed itself into our dreams. Drought, a Wildfire that forced us to evacuate for 9 days and health issues slowed us down but we kept working when possible. Today we have planted–
a Texas Native Plant garden,  A Japanese inspired garden,  and a few theme herb gardens.
My husband, Bud, investigated, designed, built and learned to use the small, passive solar greenhouse to produce vegetables and fish (tilapia)
Bud died unexpectedly in February. We knew he had so many other projects he wanted to pursue and although he was 80 years old, we felt he left us much too soon.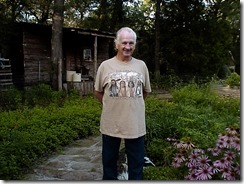 In his honor my daughter, Catherine and I decided to install a solar system. Bud was studying solar for some time and we felt that installing a system at The Purple Gate Herb Farm was probably going to be one of Bud's next projects.
We did install 24 solar panels that will help cut our electric bill by 50-60%.  We are planning to update old appliances and replace incandescent bulbs with LED's. We are looking for anyway we can reduce our use of electricity to increase our savings.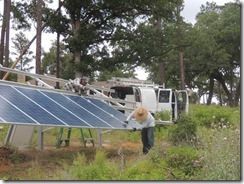 We continue to monitor what is going on in the development of Solar in the United States. Here are some sites for you to check out.
Solar Progress Report from the White House
http://www.whitehouse.gov/sites/default/files/docs/progress_report–advancing_toward_clean_energy_future.pdf
Solar Panel on the White House (utube)
http://www.whitehouse.gov/share/take-behind-scenes-look-solar-panels-white-house-roof
From the Huffington Post:
http://www.huffingtonpost.com/2014/05/09/white-house-solar_n_5292869.html
Check out this site and be sure to see the pictures and videos.
We found out the future is in good hands. High school students from rural, urban areas of the US, and other countries are moving the world in the right direction.